AutoM3U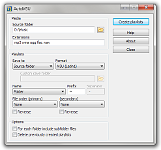 AutoM3U is a simple, folder-based M3U playlist generator. It can be used to complement tag-based digital audio players that do not provide an easy way to play music by folder.
Features
Various character encodings, including Unicode.
Configurable destination folders.
Smart naming schemes for various folder structures.
Sorting based on file and tag attributes.
What's New
v1.1.3 — 2015.05.13
Added format option for M3U8 with a byte order mark (BOM).
Downloads
Requirements