DeskPins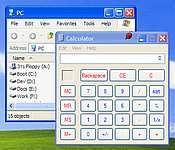 DeskPins can be used to make any application topmost, that is, to keep it above all other windows. Just grab a pin from the DeskPins icon in the system notification area and click on any window. This functionality is identical to the "Always on Top" setting found in some programs. With DeskPins you can add this feature to any program.
See more screenshots in the DeskPins gallery.
DeskPins is open source.
Features
Unlimited number of pins available.
Intelligent handling of various application types.
Powerful wildcard-based automatic pin support.
Global hotkeys.
Negligible system resources usage.
What's New
v1.32 — 2015.02.20
Fixed inability to autopin windows of 64-bit processes.
See the complete changelog for more information.
Downloads
Note that future versions may get a unified installer for all supported systems. A portable version is also planned.
Requirements